Decolonizing Contemporary Women's Spirituality
Decolonizing Contemporary Women's Spirituality
8 December 2022, Ghent University
Invited speakers: Prof. Amanda Lucia (University of California-Riverside), Dr. Kavita Maya (University College London) and Dr. Cassandra Ellerbe (Bard College Berlin)

Scholarship on what is referred to as "contemporary women's spirituality" mostly deals with new and alternative forms of spirituality in the West that emerged with the 1960s counterculture and, more recently, as part of the rise of subjective wellbeing culture. As such, it includes goddess spirituality, feminist Wicca, women's circles and a broad range of offerings aimed at enhancing women's wellbeing through using globalized spiritual resources such as yoga, tantra, Daoism or shamanism.
These forms of spirituality are a predominantly white phenomenon. Yet, they often rely on teachings and practices that originate from peoples of colour and that are eclectically mixed and interpreted in line with romanticized views of the primitive other. Therefore, they have been accused of cultural appropriation and of sustaining the colonial logics of white privilege and possessivism. Other critiques have targeted the religious exoticism which these spaces of spiritual seeking propagate by reproducing stereotypical ideas of the other in the service of white identity needs. A first aim of this symposium is to uncover these neo-colonial logics as they operate within contemporary women's spirituality. This also includes the question of what decolonizing women's spirituality might actually entail.
A consequence of the self-referential representation of the cultural other in contemporary women's spirituality is the marginalisation of the actual voices of people of colour. They are a minority among the participants in these settings and even more rare as authorities sharing their own views and perspectives. Moreover, the notion of sisterhood is repeatedly used in a way that imagines a self-evident female solidarity but does not actually engage with the different challenges women face and does not question the category of "women" as such. Hence, it is in danger of downplaying the impact of diverse positionalities and of ignoring non-binary identifications. A second aim of this symposium is to center these voices and perspectives that remain sidelined and to reflect on the use of the decolonial concept of pluriversality to rethink ideas of equal participation and solidarity.
A third and last aim of the symposium is to investigate the link between contemporary women's spirituality and feminist theory and practice. Goddess spirituality and feminist Wicca emerged in the context of second-wave feminism and have clear affinities with cultural and radical feminism. How has this evolved? Can certain forms of women's spirituality today be situated within third-wave feminism? What about the link with postcolonial, black or queer feminisms? This also prompts a reconsideration of the dominant white- and Western-centred understanding of the category of "contemporary women's spirituality" itself.
Venue: Campus Boekentoren, Building Blandijn, Faculty Room, Blandijnberg 2, 9000 Gent
If you wish to attend online, please register with carine.plancke@ugent.be
Organisation: Prof. Dr. Carine Plancke, Prof. Dr. Chia Longman and Carla Besora Barti
Centre for Research on Culture and Gender, Ghent University
Programme
9u-9u15: Registration and opening words by Prof. Dr. Carine Plancke (Ghent University)
Invited Lectures
9u15-10u05 : Prof. Dr. Amanda Lucia (University of California-Riverside): Denaturalizing White Women's Agency in Alternative Spiritualities, Moderator: Prof. Dr. Carine Plancke
10u05-10u55: Dr. Kavita Maya (University College London): Women's Spirituality and the Fabric of Colonial Modernity, Moderator: Carla Besora Banti
10u55-11u10: Coffee break
11u10-12u00: Dr. Cassandra Ellerbe (Bard College Berlin): Resistance and Conjuring Spirit in Berlin with Afrikan Yoga, Moderator: Prof. Dr. Chia Longman
12u00-12u30: Q&A
12u30-13u30: Lunch break
Panels
13u30-15u15: Panel 1: Decolonizing Women's Spirituality: Deconstructing Whiteness, Moderator: Gabriëlle de Pooter (Ghent University)
Alex García Jouve (University of Madrid & University of Groningen): The Trap of Essentialism? Gender and Culture in Women-Centered Spiritualities In Spain
Lina Aschenbrenner (University of Erfurt): Global Hawaiian Hula Dance and the Complex Matter of Neo-Colonial Women's Spirituality
Dr. Roshni Babu (Indian Institute of Technology Bombay): Decolonizing Goddess Feminism: Folk Goddesses and Virtual Spolia
Kajal Nisha Patel (University of Leicester): White Womanhood, Hindutva and Spiritual Bypass: Museums and the Mass-Yoga Spectacle
Ella Poutiainen (University of Turku) & Agi Wittich (The Hebrew University of Jerusalem): A Yoga of Her Own: Gender, Race and Authenticity in Women's Yoga and Spirituality
15u15-15u30: Coffee break
15u30-17u15: Panel 2:  Decolonizing Women's Spirituality: Diversity in Resistance, Moderator: Eline Huygens (Ghent University)
Pilar M. d'Alò (Newcastle University): The Green Tide Political Spirituality: Colonial Legacies of Knowledge Production
Ruth Vida Amwe (Princeton Theological Seminary): When Women Speak the Church into Being!: Feminizing the Vitality of African Christianity in America
Jane McBride (University of Leuven): Turning Up The Volume: Listening to the Voices of Religious Missionary Women. An Oral History Project with the Belgian Missionary Sisters, The Zusters Van De Jacht (Sisters Of The Hunt)
Dr. Rashidi Biba (University of Manchester): 'Smile it's Sunnah'- British South Asian (BSA) Muslim Women's Use of Spiritual and Religious Teachings to Counter Prejudice and Islamophobia in Everyday Spaces
Prof. Dr. Anna Markowska (University of Wroclaw), Our Moist Lady and Pink Magic
Invited lectures
Prof. Dr. Amanda Lucia (University of California-Riverside): Denaturalizing White Women's Agency in Alternative Spiritualities
In this keynote, Amanda Lucia, author of White Utopias: The Religious Exoticism of Transnational Festivals (2020), engages with a broad view of history in efforts to understand why white women have predominated the alternative, and often countercultural, spiritualities that have developed in the West since the mid-nineteenth century. Lucia suggests that the promise of female agency unearthed by alternative spiritualities in the West exists because they are imagined to exist outside of, and in contradistinction to, patriarchal forms of Judeo-Christian religiosity. As evidence, this talk draws on examples from the Spiritualists of the nineteenth century, the female followers of the earliest global gurus, the hippie-feminists of the Age of Aquarius, and the spiritual yogis of today. These innovative religious fields cultivated and provided space for female religious authority, but were often based in gendered essentialisms of idealized female characteristics of suppleness, intuition, permeability, gentility, earthiness, and naturalism. Such qualities made women into clairvoyants, yogis, earth mothers, goddesses, shamans, and mystics, all of which they were presumed to "naturally" embody because of their inherent intuitive powers and spiritual proclivities. The undercurrent to this, however, was that such positioning actually reinforced the exclusion of women from the dominant power structures in Western religions, and devalued alternative spiritualities as the silly and unserious domains of women's spiritual play and social entertainment. Lucia argues that this is a derogatory stereotype prevails event today, from the Spiritualists to the "New Age" and its various spiritual descendants. In this paper, Lucia demonstrates how alternative spiritualities exemplify age-old social hierarchies of gender and race. They are deeply committed to the empowerment of white women, but this alternative empowerment only emerges as the result of women's exclusion by white men from dominant spheres of power, and it is defined by cultural and religious violence against non-whites by furthering their exoticization and erasure.
Bio
Amanda Lucia is Professor of Religious Studies at the University of California-Riverside. Her research engages the circulation of global Hinduism, with designated attention to global guru movements. She is author of White Utopias: The Religious Exoticism of Transformational Festivals (2020), which analyzes the intersections of yoga, whiteness, and religious exoticism. Her previous publications include Reflections of Amma: Devotees in a Global Embrace (2014), and numerous articles. She is currently crafting a body of research on representations of gurus, with particular attention to media and law. She is also the Principal Investigator for the Religion & Sexual Abuse Project, www.religionandsexualabuseproject.org
Dr. Kavita Maya (University College London): Women's Spirituality and the Fabric of Colonial Modernity
This talk will consider the various ways contemporary women's spirituality reproduces colonial and orientalist discourses of race and gender, using the Goddess movement, which overlaps with the broader spectrum of contemporary women's spirituality, as a primary example. It will also address the complex question of how and to what extent women's spirituality can be decolonised, and what this actually might mean.
The epistemology and genealogy of 'decolonising' and 'spirituality' are of central importance to the problems and possibilities here, as I will discuss with reference to some of the scholarship on contemporary spirituality and the politics of decolonising. These political and epistemic considerations are at odds with contemporary spirituality's tendency to deflect political conflicts and entanglements in pursuit of transcendental and personally transformative meaning-making practices, including within spiritual feminist spaces that are predominantly, but not always, white. The result is that contemporary spirituality often either reproduces colonial dynamics of appropriation and exoticisation, and/or encourages a return to idealised, pre-modern traditions that reverse and reinstate the binary logics of colonial modernity.
How, then, can scholars and practitioners of contemporary women's spirituality find critical but creative ways forward? Rather than offering definitive answers, I emphasise the  importance of placing decolonial, antiracist feminist ethics and politics at the centre of conversations about contemporary women's spirituality. Most of all, I suggest, we need to situate personal experiences in a larger political tapestry, and become comfortable with unsettling popular trends in how spirituality is understood and practiced.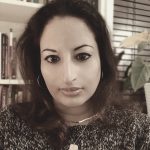 Bio:
Dr Kavita Maya is a member of the Feminist Review Editorial Collective and a Lecturer (Teaching) at UCL's Department of Political Science. Her doctoral research focused on gender, racialisation and coloniality in the contemporary Goddess movement. Her current research is on feminist textual practices, and the political implications of contemporary spirituality discourses through an intersectional lens. Her work has appeared in Feminist Theologyand Renewal: A Journal of Social Democracy.
Dr. Cassandra Ellerbe (Bard College Berlin): Resistance and Conjuring Spirit in Berlin with Afrikan Yoga
While the practice of Hatha Yoga can be viewed as a transformative spiritual practice, and a tool of empowerment; the omnipresence of white body supremacy and lack of diversity within Yoga spaces, has unfortunately distorted the image of this practice into one that has come to be viewed by some as exclusionary and elitist. Yoga spaces have in many instances become sites where oppression is reproduced. These are spheres where Black and bodies of colour do not experience rejuvenation and healing, but harm. This has prompted some individuals of the Black and (FLINTA) communities of colour in Germany to curate selfdetermined spaces and seek alternative spiritual practices.
In this discussion, I examine the practice of Afrikan Yoga within this community in Berlin. Moreover, I argue that the embrace of this practice is a decolonial form of resistance as well as a way of healing and conjuring spirit.
Bio:
Cassandra Ellerbe completed in 2006 a PhD in Comparative Cultural Studies/Anthropology at the University of Ghent, Belgium. She has worked as a researcher in various cross-border EU funded projects. She is currently Officer for Diversity & Inclusivity in the EU & DAAD funded project titled YUFE (Young Universities for the Future of Europe) at the University of Bremen, Germany: https://www.uni-bremen.de/en/cooperation/university-cooperation-1/yufe.
Cassandra is a certified diversity/social justice /Embodied Social Justice and empowerment workshop facilitator for People of Color in Germany. She was an academic Fellow at the Bayreuth Academy of Advanced African Studies (2013-2014) and network member of the Black Diaspora in Germany Scholars Project funded by the German Research Foundation (2010-2014).
Cassandra also lectures at Bard College Berlin and works on issues related to social justice and diversity: http://www.berlin.bard.edu/ . In addition, she is an avid practitioner of Afrikan Yoga and leads a healing circle exclusively for BIPoC (FLINTA) in Berlin
More info: